Posted on | January 10, 2013 | No Comments
It's a great time of year for gadget hunters. CES is the epicenter for everything awesome. Here is a quick snap shot of a cool product, that is tiny and multifunctional. The Breffo Stick Stand is a flexible strip of plastic that can be shaped to hold your phone or tablet for easy hands-free viewing. I really like the small size, as it can easily be added to your arsenal of travel accessories.
It is not available yet, but should be in early Q1 (guess).
Posted on | May 17, 2012 | No Comments
As I drift off to sleep at night I often imagine future societies traveling around like the jetsons. This is likely influenced by that hour long commute home from the office each day, but it's also nice to dream of futurist travel mechanisms.
Well, dream no more, puny earthlings. The Uni-Mob from Honda "can move forward, backward, diagonally and side-to-side simply by responding to the driver shifting his or her weight -time.com"
Posted on | February 14, 2012 | 1 Comment
Ahoy travel gadgeteers, today I bring you an amazing device.  This product's slogan should likely be, "if you can build a fire, you can charge a device."  When I first read about the BioLite CampStove I thought it was a concept.  Even a well baked concept gets me excited, but the fact that a functional version is available for $130 is awesomely awesome (shipping soon).  Seriously, I need one of these.  I'm pretty sure that you have to use this on your hotel balcony (don't try it) – call it Bear Grylls meets Bill Gates, call it fire charging, whatever.. It Rocks!
View Video Here
BioLite CampStove Review – Travel with Gadgets Blog
Posted on | November 15, 2011 | No Comments
Using rental cars for business travel is fun, and nothing says excitement like a beige Chevy Malibu with zero options.  So, "Bring your gadgets," my dear Watson!  I'm pretty sure that with enough gadget-dazzle you can take that 'Bu up a notch or two.
Top Rental Car Gadgets [read more…]
1. PowerLine PowerCup Mobile Inverter
With 200 watts to power those gadgets, this product is an absolute necessity.  It comes with two A/C, 1 USB port and is designed like a cup, so it will easily fit snuggly into any cup holder.
http://www.amazon.com/Powerline-Original-Power-0900-66-200-Watt/dp/B000QFISDK/ref=sr_1_6?ie=UTF8&qid=1320763698&sr=8-6
2. Grid-It Visor Organizer
When you are swerving down the road at 70 mph, digging around in your bag for anything is not recommended.  I am a big fan of Grid-It products and this one is perfect for road trips.
http://www.cocooninnovations.com/product_info.php?cat_id=0&product_id=168
3. Jawbone Icon
I have used my Icon for about a year and love it.  I've been on calls in noisy hotel lobbies and even in the home office with children screaming in the background, and the call quality always amazes me
4. Waze App
There are tons (TONS!) of map apps out there.  I think I have at least 5 on my phone right now.  This one has two features that make it stand out, a sweet social feed to complement the Google Maps layer and a points system for driving over fun things in your route like muffins.  This app adds at least 20 points of fun to your trip
5. Koolatron 12V Travel Cooler
Sure, space is always limited, but sometimes you just need to keep those drinks and road sandwiches cold.  This thermoelectric cooler from Koolatron is the lightest one I have seen.  At only 7 pounds, this little guy should fit into any piece of luggage, and is powerful enough to nearly freeze things .
http://koolatrononline.stores.yahoo.net/d13-portable-kooler.html
Good luck on your travels!  If you have any advice on rental cars or business road trips, please share your comments.
Posted on | October 17, 2011 | No Comments
I am on my third trip to the Windy City this month, and have been giving Chicago furnished apartments a try. This is my first go with extended stay housing, and I must say that the Marriott ExecuStay has been great. After I am done with this leg I may ask the staff to leave my mess untouched. I'm thinking that old shopping bags and sale rags laying around will create that cozy, I've-been-here-before, feeling when I return (in another week).
With a few consecutive weeks of travel under my belt I have run into a few snags along the way, so I decided to put together a travel survival kit. To me the big thing is adapting to my surroundings, keeping my routine as intact as possible and enjoying some free time. [Read More…]
#1. Blackbird Vacuum French Press

I don't care if Juan Valdez himself cryovaced that coffee, it just doesn't cut it out of the single-serving coffee machine that has been abused since first put into a room. This travel-sized coffee press is great for saving what little flavor is there. Plus, traveling with an old-friend (the cup) helps you transition.
http://www.blackbirdballard.com/Blackbird_Bird_Boy_Vacuum_Travel_Press_19703.html
#2. Shout Stain Remover Wipes
The concierge may have an Olympic track star on site, but if your middle name is "El Pigpen" you may need some extra help. I have relied on these wipes countless times, and am still amazed at how well they work.
http://www.shoutitout.com/en-US/Products/Pages/shout-wipes.aspx
#3. RCA Component Video Cable
Nothing says R & R like kicking back with your own TV programming. Sure it's not perfect resolution, but its convenience makes up for it.
http://www.amazon.com/Cables-Go-38077-Component-Video/dp/B000Q5UQU8/ref=pd_cp_e_2
#4. Travel App : FourSquare Explore Tab

The big question for me is, what to do during my down time? There are a ton of apps out there to help answer this question, but I really like the speed and accuracy of the FourSquare Explore tab. It lets you know what kind of specials are around and how popular they are.
http://smartphonenation.com/2011/03/foursquare-releasing-updated-app-for-iphone-and-android-foursquare-3-0/
#5 Travel Slippers

Nothing compliments a few minutes of relaxation like travel slippers. I still rely on these puppies. They are light-weight and cozy.
http://travelwithgadgets.com/2011/04/travel-slippers-are-hip-dammit/
Posted on | September 16, 2011 | No Comments
So it's finally hear. The industry has been abuzz for several months following Google's acquistion of ITA. For some it's a huge deal. For others it's just another place to search for flights. For me, well its got some pretty nerdy features, so I am a fan. At the core of this recent announcement (Google News) is an integrated engine to find and book flights. A new Kayak if you will. There are a ton of options out there, and I think it really comes down to habit and routine. If you are used to calling an agent, or just absolutely love the stylings of Travelocity, this probably means very little to you. That said it's worth a look.
…Read more
Option 1: Perform a flight related search and the "Flight" button should appear in the Left Margin

Option 2: http://www.google.com/flights
From here you can refine in a number of ways, Expanding the map provides a visual of the flight route


Horizontal Bar Graph : Comparing Price by DOW




Scatter Plot-esk : Compare by Flight Length


Posted on | August 2, 2011 | No Comments
I am in the process of planning a family trip across country. The challenge is packing lean enough to keep the bag count under 100, yet have all the milk, juice, berries and cheese sandwiches that the "childrens" are accustomed to eating every day. Rather than pack 2 or 3 lunch-sized cooler bags I came across this soft cooler bag designed for motorcycle inserts. Nothing says "bad to the bone" like baby food and binkies.
The Cruiser III Cooler Bag Insert from Tour Master fits the bill perfectly. It easily fits into a carry-on, has a few ice pack inserts and is, well, a biker accessory. We'll give this a shot and keep you posted.
Read More

Posted on | May 21, 2011 | No Comments
I'm always on the the look out for bags and organizers to keep my gadgets tidy on trips. I have even taken to observing colleagues and other business associate's solutions for travel cable management. All too often I see a small mesh zipper bag with 18 cables shoved inside. I think to myself, "is there not a better way?" Of course, the answer is YES which is why I write this blog…
Check out this product by Cocoon – Grid It!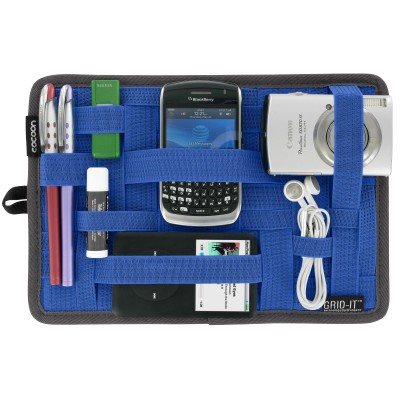 It's simple yet effective. One of it's biggest appeals is that is can easily fit into a laptop bag or small carry on. It does leave your gadgets exposed, but if you are hardened enough, having them organized and with you… is worth the scuff marks.
Posted on | April 23, 2011 | No Comments
There are many days that I come home from the office, kick off the flip-flops or loafers and slip my feet into wool ergonomic slippers. I laugh to myself each time, and think, "whats next a red cardigan?" It's not so much that my feet are sore from sitting at a computer all day, it's more about mentally transitioning from work-life to home-life. Seeking out something that brings you joy or comfort at the end of a work day is absolutely necessary. This little, "me moment," helps me relax which makes my wife look hotter and my son even more enjoyable.
On my last business trip to D.C. I arrived to the hotel late at night, rolled into my room, and as I settled in I realized that I was still wearing my shoes. At the moment I took them off I wished I had my slippers. Call it the comforts of home, missing the family, feeling stress of the upcoming work that night or just trying to relax, but I definitely missed the comfort of a slipper. So, I thought to myself, "why did I not bring my slippers?" There is barely room in my luggage for another charging cable, so essentially bringing another pair of shoes is not very practical. Since that trip I have been searching around for slippers small enough to cram into a carry on yet comfortable enough to perform better than a thick sock. Here is what I have found so far. I'm not sure which one to go with, but I think either one are a good option.
Acorn Travel Slippers from Sierra Trading Post


The one thing I like about these, I could easily wear those down to the lobby or even to the client meeting.
Casual Style Slip On @ Megallan's
A little more casual but should still do the job.
Posted on | March 26, 2011 | No Comments
As long as there have been gadgets, there has been a need to organize and carry them. Often, when traveling on business I find myself creatively stashing cables and chargers between clothing gaps in my carry-on or trying to squeeze in a smaller gadget organizer bag. Sometimes, I am just in a rush and grab the top 3 chargers or cables I may need. Although, many times having rushed my pack job I get to a hotel room and realize that I have forgotten a charging cable or adapter. I have considered a pre-packed ready-to-go accessories bag, but like to pack lean and do not like the idea of buying double items just to sit in a bag.
One of the key questions that I ask myself when shopping for anything gadget related, is it versatile and compact? I came across this product from Skooba. It's got a great name too, The Cable Stable DXL is a very small zip up bag with pockets and tie down areas. One of the things I like most about it is, you can multipurpose almost any one of the "zones" specifically for your needs. Do you have 5 chargers, 2 cameras and an iPod, or even snacks- not a problem? Also, I can easily see, throwing in the iPad or even MacGyvering a strap on this bag for a, yes, Murse. I still hold onto the fact that function outweighs form. Especially, when I am traveling. I'll take decluttered pockets any day for a minimalist, lightweight bag. Of course, my wife prefers not be seen with me and a hybrid-gadget-bag-slash-man-purse, but I try to ease her mind and tell her it's nerd-style woman repellent for when I travel for business.
Here is a slightly larger gadget bag that is also very travel friendly,
keep looking »